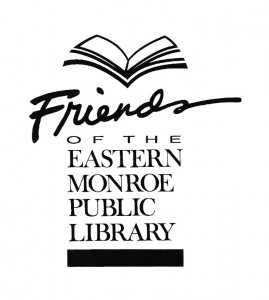 Founded in 1975, the Friends of the Eastern Monroe Public Library supports the work of the library. Each year we sponsor two major book sales: a two-day sale of children's books in April (this year set for the weekend of April 28-29) and a 5-day book sale the first week of June. The Friends also sponsor a used bookstore in the Library Cafe area of the Hughes Library and a smaller bookstore in the Smithfields branch library.
Our dedicated volunteers sort and organize all of the book donations received by the library, recycling your books into improvements for the library. Recent contributions to the library include:
New carpeting for the Youth Services department
Ramp in the Library garden, making the library fully accessible from the garden entrance
Divider and flower bed in the Hughes Parking Lot
Technology improvements in all branches of the library
Bookmobile Fund
Members of the Friends receive our award-winning newsletter and receive early entrance to our major booksale in June. Click Here for our membership application.
SAVE THE DATES!
Children's Book Sale – Saturday, April 28, 9 am – 4 pm
Main Book Sale – Saturday, June 2 – Wednesday, June 6th