Yertle the Turtle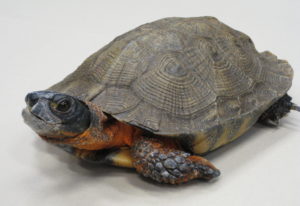 Frequently Asked Questions
What kind of turtle is Yertle?   A wood turtle.
Is Yertle male or female?   Female.
What does she eat?   Shrimp, fish, grapes, tomatoes, and cherries. Her favorite food is corn on the cob.
How did Yertle get her name?  She is named after the book, Yertle the Turtle and Other Stories by Dr. Seuss.
How old is Yertle and how did she come to the library?   In 1983 she was introduced to the library by long-time children's librarian, Marie Catudal, whose dog found Yertle in the woods. We don't know how old Yertle was before she came to the library but she has lived here for over 33 years.
Is she

really

the same turtle?   Yes, she is!
Where does Yertle go when she's "on vacation?"   She goes home with a library staff member. Yertle gets to walk outside and stretch her legs. It's very important that she gets enough exercise and sun to stay healthy.