Teen Programs
Teen Events and Activities for the Associated Libraries of Monroe County
Did you ever wonder how an animated movie or video game is made?

Join us for "From Script to Screen: The Process of Animation," an interactive course for teens at Barrett Paradise Friendly Library in June. Click here for all the info!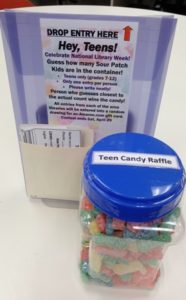 Guess How Many Sour Patch Kids in the Container!
There were 272 Sour Patch Kids in each container. Click to see the list of winners, including the result of the random drawing for the $35 Amazon gift card.
Mad Skilz Raffle!
Congrats to Savannah E. from Barrett Paradise Friendly Library, winner of the Mad Skilz Raffle! Happy juggling, spinning, tossing, etc!!
Would you like to receive e-mails about upcoming teen library programs? Click here to contact us. Please include your full name, grade, and home library.
Associated Libraries of Monroe County
Barrett Paradise Friendly Library • Clymer Library • Eastern Monroe Public Library • Pocono Mountain Public Library • Western Pocono Community Library