Teen Summer Reading

Summer Reading Experience for Teens 2017


(just completed grade 6-12; ages 12-18)
Last day for registration and logging is Sat, Aug. 19. Prizes can be redeemed until Aug. 31.
Keep track of how much you read to earn prizes (novelty items, candy, & books).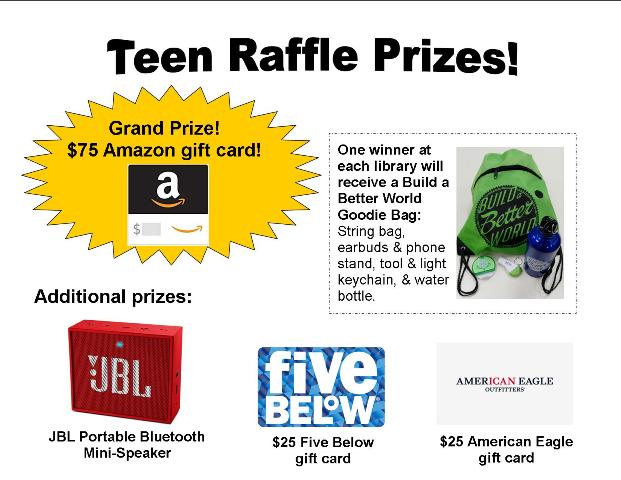 Earn raffle entries, too! The Grand Prize is a $75 Amazon gift card. Additional raffle prizes include a JBL bluetooth mini-speaker, $25 American Eagle gift card, $25 FiveBelow gift card, and a goodie bag with an assortment of prizes.
Click here to learn how it all works: Summer Reading Experience Detailed Info
Links for the online program are below. Be sure to click on your own library! Please register at only one library.
Activities! Click the links for details about the following programs:
Dr. Bore's Escape Room: In the year 3000, the world is in danger. Work as a team and search environmental scientist Dr. Bore's laboratory to uncover clues that lead to the solution that just might save the planet!
Building Challenge: Featuring Legos, Magna Tiles, Keva Planks, and more! Build to a designated theme (Tallest? Craziest? Most useful? Most Creative?) Showcase your engineering skills or just have fun!
Click on your library's link to create and access your online reading account.
Barrett Paradise Friendly Library: https://wandooreader.com/barrettlibrary/bpfl-teens-build-a-better-world
Clymer Library: https://wandooreader.com/clymerlibrary/clymer-teens-build-a-better-world
Eastern Monroe Public Library (includes all branches: Hughes; Pocono Township; Smithfields): https://wandooreader.com/monroepl/empl-teens-build-a-better-world-2017
Pocono Mountain Public Library: https://wandooreader.com/poconomountpl/pmpl-teens-build-a-better-world-2017