Coding for Beginners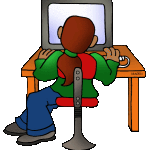 We're thrilled that so many people are interested in learning about the basics of computer science! If you weren't able to attend one of our "Coding for Beginners" programs, fear not–everything you need to get started is right here on this page! Grab a buddy (friend, family member) and work through the projects together; collaboration and teamwork will make this an even more rewarding experience.
VOCABULARY:
Coding: To write code, or to write instructions for a computer.
Program: Instructions that have been coded so the computer can understand them.
Debugging: Finding and fixing problems in your program.
Go to Code.org to get started. Code.org is an amazing resource and is the best place for all ages to begin to learn coding! Below is the outline of what we covered in our programs:
From main page of Code.org, scroll down and select "Hour of Code."
Choose "Star Wars: Building a Galaxy with Code."
Choose either Blocks (easier) or Java Script (more challenging). Click "Try now."
Watch the video. Option: select the "no video? show notes" tab to read instead of listen.
There will be a series of 15 puzzles. You must use code to solve them.
Block commands can be dragged into the workspace. Click "Run" to see if you solved the puzzle.
If you don't solve it the first time, you must click "Reset" before trying again. Don't worry if you make mistakes–it's part of the learning process 🙂
When you finish all 15 puzzles, you will be able to create your own Star Wars game!
Want more? Explore https://code.org/learn for many more options!
There are other fun puzzles to work on in "Hour of Code."
Explore the "Beyond an Hour" tab for tutorials on code.org and other sites like Khan Academy, LightBot, Scratch, and more.
Click "Code Studio" (on code.org) for courses in Computer Science Fundamentals for all ages.
Why are computer science and coding so important? Browse the inspirational videos on some of the "Hour of Code" puzzle pages to hear about it from role models and celebrities.
Learn more about Code.org and spend time exploring all of the incredible resources they have to offer.