Teen Programs
Teen Events and Activities for the Associated Libraries of Monroe County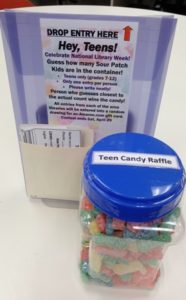 Guess How Many Sour Patch Kids in the Container!
Look for this display at your library. The person who guesses closest to the actual amount at each library wins the container of candy. All of the entries from each of the libraries will be entered in a random drawing for a $35 Amazon gift card. Grades 7-12 only, please. One entry per person (and you may only enter at one library). Contest ends Sat., April 30.
Mad Skilz Raffle!
Congrats to Savannah E. from Barrett Paradise Friendly Library, winner of the Mad Skilz Raffle! Happy juggling, spinning, tossing, etc!!
Would you like to receive e-mails about upcoming teen library programs? Click here to contact us. Please include your full name, grade, and home library.
Associated Libraries of Monroe County
Barrett Paradise Friendly Library • Clymer Library • Eastern Monroe Public Library • Pocono Mountain Public Library • Western Pocono Community Library